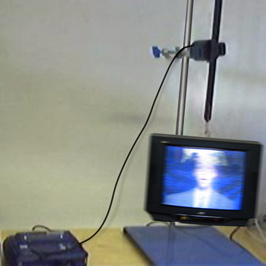 Tim Plaisted
2006
Works
TV Swing (2006)
TV, Steel, Video and Motor
I Saw Two Things Happening (2006)
Nintendo DS, Software, Text, Electronics and Door Track
Text written by Beth Jackson as a collaboration
Public Opening (2006)
Interactive Projection on to Sliding Doors
Public Appearance (2006)
Cotton, Electroluminescent Lighting, Portable Devices
Clothes by Halszka Masash
iPod Aviary (2006)
Mobile triggered from iPod Video, Video, Electronics, Wood
Zen TV Door (2006)
Single Channel Video through Six Monitors with Magnetic Distortion and Interference, Wood
Statement
New TV is an exhibition of kinetic video objects by Tim Plaisted. Works were developed through an investigation into how intentional or unexpected movement to the surface holding the video contribute to a rereading of moving images. Six new works span the gallery space and windows combining installation, software, projection and wearable technology.
Plaisted explains, "One evening I caught sight of my partner wheeling his wireless laptop through the lounge room on an office chair. The motion of the laptop screen and the video playing on it, seemed particularly human to me. Three things stuck me at once about the image: screens are becoming affordable, portable yet connected and increasingly part of our lives. Their uptake mean new screen interfaces are entering into spaces that the portable tv had not; increasingly bringing the moving image on moving surfaces into public spaces."
Alternate in-exhibition info (single flash 9 file with alternate video)
Bio
Tim Plaisted is a Brisbane-based media artist working with digital and traditional materials. His previous work has been included in three Multimedia Art Asia Pacific Festivals and exhibited in Australia, Korea, Mexico, Singapore, Thailand, UK and USA and reviewed in Artforum. His practice has developed into a consistent use of simple interaction usually adapting the underlying medium. Two strands of his practice involving interactive software and processed video extend into installation with the show New TV. Earlier examples of Plaisted's interactive installation include Surface Browser (2004), which was included in the national survey of contemporary art, 2004: Australian Culture Now at ACMI/NGV in Melbourne and Handheld (2006), which will be heading to Japan soon as a visual to a music tour. Current areas of investigation will develop on from the kinetic installations in New TV as well as continuing to look at immersion using accessible, networked technology and play. For more: boxc.net
Acknowledgments
This project has been assisted by the Australian Government through the Australia Council, its arts funding and advisory body.